Digitalization as a key factor to ensure the transformation to the Sustainable Economy model.
Discover the Laragon VISION 2030 solution for comprehensive ESG and Climate Change performance management.
The increasing relevance of ESG performance and the need to address the risks derived from Climate Change and decarbonization processes present new challenges for companies, and in particular for managers responsible for integrating sustainability into their strategic planning and for the teams in charge of monitoring its implementation.
It is not enough to redesign processes and operations to reduce emissions: it is necessary to pilot the definition of objectives, improve management capacity and coordination between departments for an adequate measurement of the outcome and impacts of initiatives, risk assessment and reporting processes aligned with methodological frameworks such as ODS, TCFD or the EU Taxonomy.
LARAGON organizes this Thursday, May 27, at 4:00 p.m. CET , the webinar " Towards integrated ESG performance management and Climate Change: Challenges and Digitization.", which will address the role of digitalization as a key factor in the integrated management of ESG and Climate Change strategies.
We will have the participation of two extraordinary experts who will give us a strategic vision of the challenges and transformations that companies face in the face of the 2030 horizon. HORIZON 2030: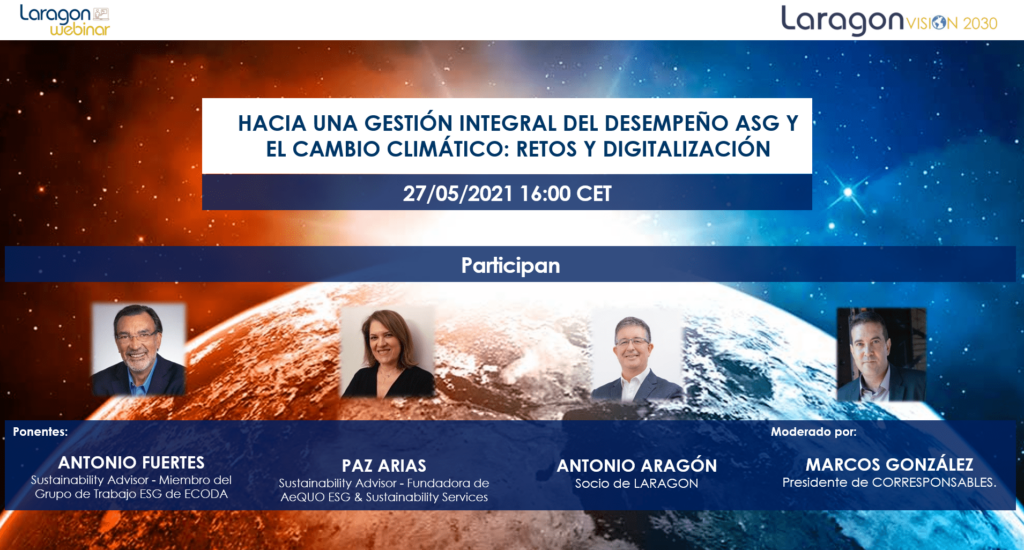 Agenda:
HORIZON 2030: A CRUCIAL DECADE TOWARDS A SUSTAINABLE ECONOMY / Antonio Fuertes.
HORIZON 2030: ARE COMPANIES READY FOR TRANSFORMATION? / Paz Arias.
LARAGON VISION2030: TOWARDS INTEGRAL MANAGEMENT OF SUSTAINABILITY AND CLIMATE CHANGE IN COMPANIES / Antonio Aragón.
The registration form is available at this link.
The event can be followed through social networks with the hashtags #LaragonWebinar and #LaragonVision2030.
About Laragon
We are a technology consulting firm specialized in the digitization of key business processes in Sustainability Strategies, Environmental Management and Climate Change, Health and Safety, Risk Management and Regulatory Compliance. Headquartered in Spain and with operations in Latin America, we have been working with our partners since 2006 to make technology available to all organizations. To learn more about Laragon, please visit www.laragon.es.