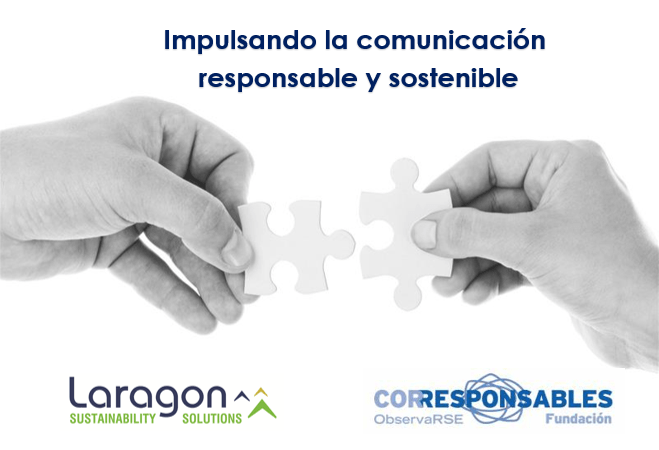 Laragon and Corresponsables sign alliance to promote responsible communication in Europe and Latin America
Madrid, December 10, 2020. Laragon, a consulting firm specialized in digitalization projects of EHS, Sustainability and GRC processes, and Corresponsables, the leading CSR and sustainability media in Latin America, have signed an alliance to promote responsible communication in Europe and Latin America.
Within the framework of this collaboration agreement, the Corresponsables publishing house will be responsible for putting its knowledge and experience at the service of Laragon. Thus, both entities will promote responsible communication through content published in blogs, media, web and social networks. In this way, through this dissemination, they contribute to the improvement of key business processes in the Sustainability Strategies and Social Responsibility of their clients.
For María Cortes, partner and general manager of Laragon, "We are very confident that we can count on Corresponsables to take a step forward in CSR and sustainability. They are experts in the subject, and with their support and our good work we are sure that we can bring added value to all our customers and stakeholders.".
For his part, Marcos González, president and founder of Corresponsables, emphasizes that ".This alliance is a great opportunity for responsible communication to reach all stakeholders and society in general. We are very pleased that Laragon has trusted us to work together on this new project.".
Laragon has been working for more than 15 years with large national and international companies that are leaders in the main sustainability indexes, providing its expertise in the digitization of these strategies and integrating them with other key environmental, social and good governance objectives. In this sense, and aware of the importance of bringing digitalization within everyone's reach, it has decided to give a boost to its communication with Corresponsables, a leader in CSR communication.
About Laragon
A consulting firm based in Spain and Latin America specialized in process digitalization projects that works with the objective of bringing technology within the reach of organizations. Since 2006 we have been applying Innovative Technologies to improve key Business Processes in Sustainability Strategies: Environmental Management and Sustainability , Health and Safety, Risk Management y Regulatory Compliance .
About Corresponsables
Corresponsables was created in 2005 to promote and disseminate the responsible and sustainable management of all types of organizations through its media and communication services. All of this with the aim of contributing to create a better, fairer, more sustainable, supportive and committed world. Pioneers in CSR and experts in responsible communication, Corresponsables works to spread the culture of CSR and sustainability throughout Latin America. www.corresponsables.com